Simple and intuitive ergonomics.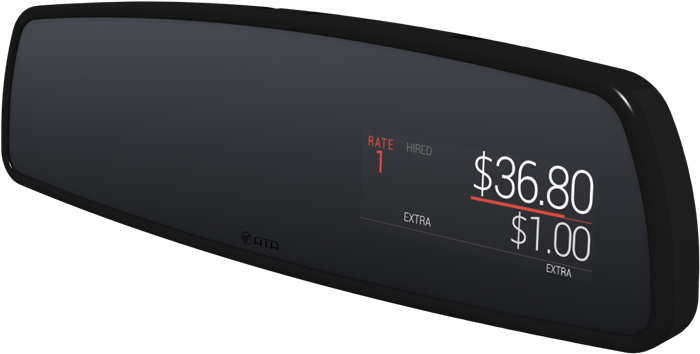 The navigation scroll wheel ATA's exclusivity
Scroll through menus easily by turning the dial and validate your selection with a simple press.

Industrial TFT graphic display ATA's exclusivity
Specifically designed for ATA, the graphic screen provides a high-quality display of the different functions illustration.
The contextual menu bar ATA's exclusivity
Push-buttons' functions are illustrated with a bar of ergonomical and contextual menus.
Ever more innovative.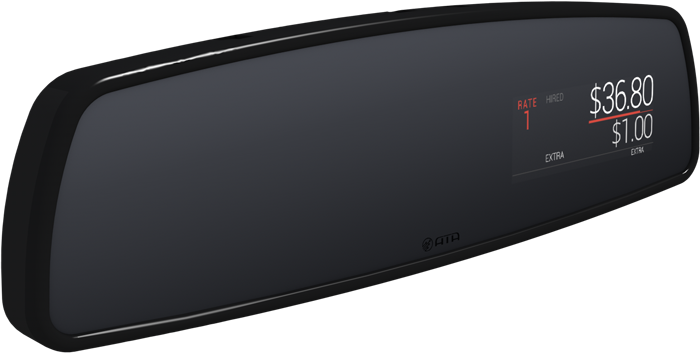 Fare progress bar ATA's exclusivity
The progress bar displayed underneath the total indicates the fare incrementation during the trip, enabling you to see at a glance the next fare increase.

The fare progress bar is present in all taximeters from the REVOLUTION range.
Designed to make your life easier.

Digital rate display label ATA's exclusivity
As with the POWER HD taximeter, the annual rate label is dematerialized.
At the annual rate changes, the display updates automatically, free from any paper label.
In the HIRED and STOPPED positions, the annual rate display light is dimmed to improve readability and avoid any confusion with the trip fare display.
Functional features
Compatible with the 1001TAXIS App:
Trip proposals sent directly to your taximeter*

Automatic selection of day/night rate

Automatic summer/winter time adjustment

Automatic display of the minimum of fare

Manual management and selection of extras

Automatic power-off in the event of prolonged inactivity
*Depending on the equipment. For more information, please contact us or your installer.
Technical features
| | |
| --- | --- |
| Stylish design (width x height x depth) | 278 x 82 x 23 mm |
| Light device | Around 280 g |
| High temperature tolerance | From -25 °C to +70 °C |
| Storage temperature | From -40 °C to + 85 °C |
| Humidity conditions | Maximum 93% of relative humidity |
| Allowable k coefficient range | Between 500 and 120,000 pulses/km |
| Maximum distance measurement error | 4 metres or 0.2 % beyond |
| Maximum time measurement error | 0.2 seconds or 0.1 % beyond |
| Maximum fare calculation error | 0.1 % |
Find all technical features in our user guides.
Regulatory certifications
| | |
| --- | --- |
| European approvals: MID | CE | EN 50148 | |
| International approvals: OIML R21 | Regulation R10 | |
| EU declaration of conformity | |
Functional and technical documentation
| | |
| --- | --- |
| First time user Quick Start Guide | |
| Comprehensive user guide | |
| Additional user guide | |
| User video | |
Our complementary products