ATA PAYMENT SERVICES
Electronic banking solution




Payment terminal VX675 Wifi.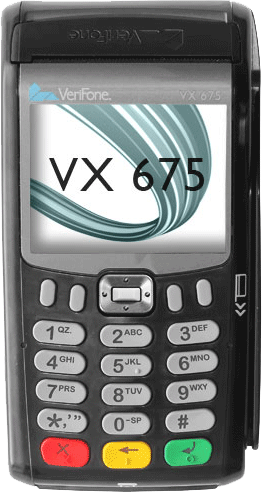 More than a terminal
Free of subscription (shared connection via Wifi with a smartphone), the VX675 payment terminal processes contactless payment and European credit cards (CB, Visa, Mastercard, Amex ...) at the same rate throughout Europe.
With its integrated printer, this wireless terminal is the smallest on the market.

Power in finesse
The VX675 payment terminal is best suited for occupations requiring mobility.
Robust yet sleek, , this terminal can withstand the most demanding conditions while bringing mobility at high speed.
Paying is now possible anywhere, anytime!

Safety first
The VX675 is a PCI PTS 3.0 certified and designed to combine security and comfort. The VX 675 can withstand fraud and forgery attempts with EMV Level 1 and 2 certification SSL and file authentication protecting sensitive end-to-end data.
MANUFACTURER WARRANTY 4 YEARS!
A global view of your activity.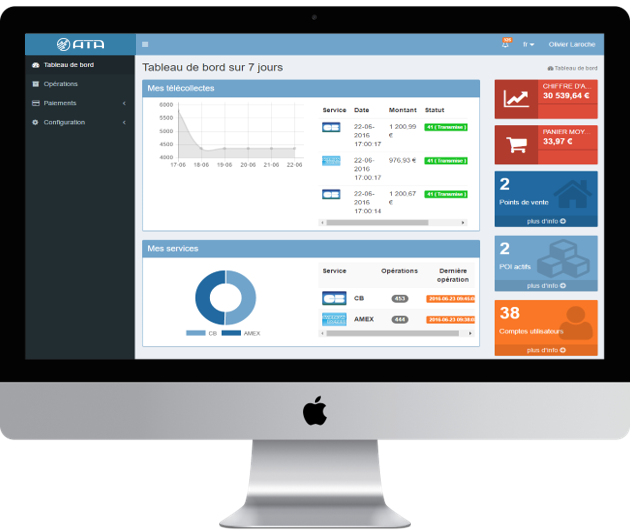 Time saving
With the ATA PAYMENT SERVICES solution, view all the transactions and data of your terminals.
Facilitate your fleet management thanks to the transactions beakdown per driver and be alerted in case of blocked remote collection in a payment terminal.
Monitoring and management
ATA PAYMENT SERVICES offers operational monitoring, pertinent indicators of productivity, a tracking of your park's evolution, and the possibility to remotely block the payment terminal....
Ergonomics
Discover fluid modern and in responsive designed interfaces (adapted to smartphones, tablets ...), track and manage trees diagrams and users, find all the the transactions data by a simple extraction in the format of your choice.
Statistics about your clients.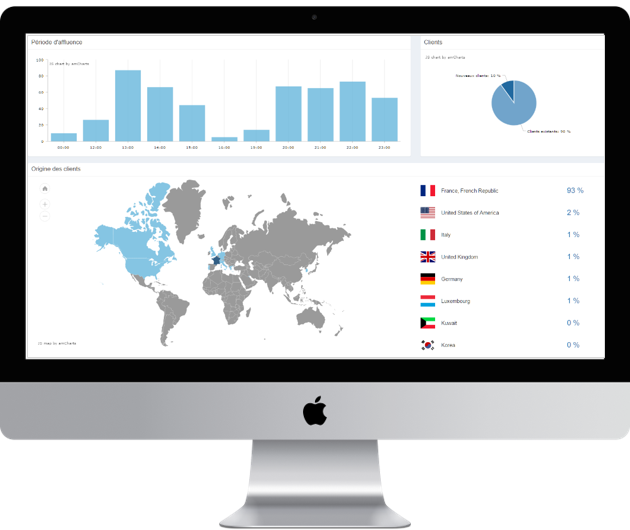 Permanent audit and analysis tool on all cash receipts
Obtain reliable and relevant productivity indicators : your customers nationality, their frequency of purchase, your peak period, the revenue per card, the average basket, your turnover evolution.
Mobile Application Shop Control
Provide each taxi driver with the Shop Control mobile application, the first tool connecting the payment terminal directly to his smartphone !
That way, you save time in your activity management, you gain some knowledge on your customers and you can exchange with your taxi drivers directly via the Application !
A view of the payments broken down by taxi.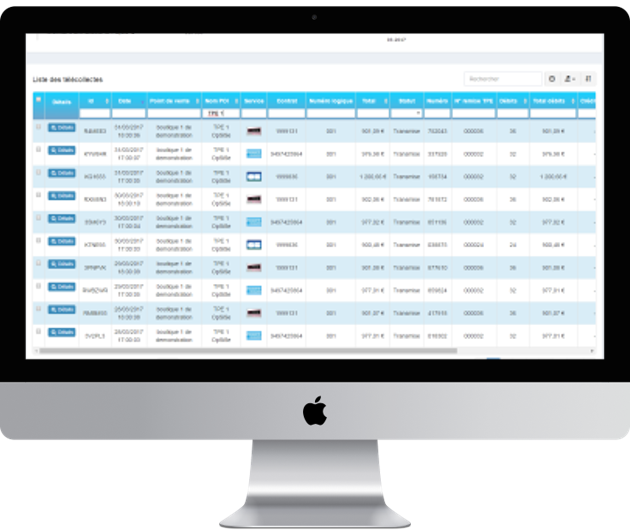 For easy accounting
Enhance your accountancy management with the ATA PAYMENT SERVICES solution: break down per payment terminal (or per driver) , obtain detailed trip reports (filtered by driver, period ...) in the format of your choice (Excel, CSV ...) , reissue the customer's receipt and the merchant's ticket, Pay the taxi drivers automatically without customers receipts presentation (at your choice)...
Accessories available.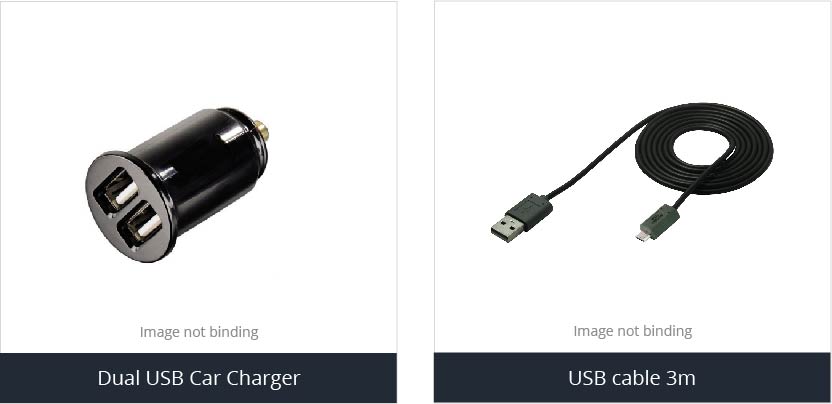 Functional characteristics of TPE VX 675.
| | |
| --- | --- |
| Without subscription | Connecting to the smartphone |
| Support for European maps | CB | VISA | MASTERCARD | AMEX (via your bank) |
| Contactless | Standard |
| Integrated printer | Yes |
| Wireless TPE | Yes |
| Color display | Yes |
| Terminal Connectivity | Wi-Fi 802.11b / g / n | Bluetooth 2.0 |
| Peripheral ports | Integrated USB ports |
Technical characteristics of the TPE VX 675.
Dimensions

337 g (complete package: 732 g)

Drums

Li-Ion 3.7V / 2450mA

Processor

400 MHz ARM11 32 bit RISC

Memory

384 MB (128 MB SDRAM, 256 MB Flash)

Screen

QVGA 320x240 pixels color TFT 2.8''

Connectivity

2.4GHz Wi-Fi | Bluetooth 2

Printer

Integrated thermal printer with graphics prints; 30 lps; 40 mm paper diameter

Magnetic card reader

Triple track (track 1, 2, 3), high coercivity, bidirectional

NFC / Contactless

Certified CB Bulletin 12 Version 3
ISO 14443 A & B, including MiFare
Compatible with ISO 18092
EMVCo L1 certification
Compatible with the main NFC / contactless protocols

Smart card reader

ISO 7816, 1.8 V, 3 V, 5 V; synchronous and asynchronous cards; EMV approval

SAM card reader

2 secure access modules (SAM)

Keyboard

3 x 4 numeric keypad plus 4 configurable keys on the screen and 1 navigation key

Power

100 to 240 VAC, 50/60 Hz; output 5 VDC, 1 A

Environment

Operating temperature range 0 ° to 50 ° C
Relative humidity 5% to 90%, non-condensing
Storage temperature: -20º to 60º C / 5% to 90% RH

Dimensions

Terminal (W x H x H): 163 mm x 78 mm x 52 mm
Base (W x H x H): 131 mm x 84 mm x 42 mm

Sécurité

PCI PTS 3.0
Our complementary products